UEV by Camrost Felcorp
Located at the corner of Eglinton Ave and Brentcliff Rd, Upper East Village will quickly become a desirable enclave that will be a distinct landmark structure once its transformation is complete. This newly tailored collection of Upper East condos and spacious town homes will be nestled in a thoughtfully designed residential village, surrounded by lush gardens, inspired amenities and contemporary conveniences.
Register below to receive important updates on this project, including priority access to floor plans and pricing!
PROJECT SUMMARY
Project Name: Upper East Village Condos
Location: Leaside – 939 Eglinton Ave E, East York, ON, M4G 2L2
Developer(s): Diamond Corp & Camrost Felcorp
Architect: IBI Group Architects
Landscape Architects: Janet Rosenberg & Studio
Interior Design: Powell & Bonnell
Category: Condo, Office, Public Space, Residential, Retail, Townhouse
Number of buildings: Three
Project Type: Condominiums Suites, Penthouse Suites and Town Homes
Storeys: 21, 18, 28
Unit breakdown: 
514 residential units (1-2 bedrooms, many include dens)
28 townhomes in total
Occupancy: 2021 (tentative)
LEASIDE COMMUNITY
Wide open green spaces, unique streetscapes sprinkled with boutique shops and charismatic cafes are what make Leaside stand apart from the various Toronto neighbourhoods. Its allure is in its duality: elements of a quaint, small town meet all the relished conveniences of the big city. Located in Toronto's Upper East Side, the comforts of Leaside include a lush interconnected park system, scenic trails, big box conveniences, local shops along the promenade, and easy access to the TTC and Eglinton Crosstown LRT.
Upper East Village is a brief walk from the very best of Toronto, be it picturesque nature paths, top-rated restaurants, or simply, a great cup of coffee. SmartCentres Leaside right behind Upper East Village includes RBC bank, LCBO, Golf Town, Best buy, Winners, Sobeys, and more.
Kids and adults will never have a dull moment when the Ontario Science Centre and Sky Zone Trampoline Park are only a few minutes' drive away.
There many ways to enjoy the green space in the Upper East Side. Bike through the many trails at Sunnybrook Park or take a tranquil walk with your dog through the floral oasis of Edwards Gardens. The Upper East Side is surrounded by connected parkland that is perfect for both quiet and dynamic activities. Nearby parks include Trace Manes Park, Leonard Linton Park and Serena Gundy Park.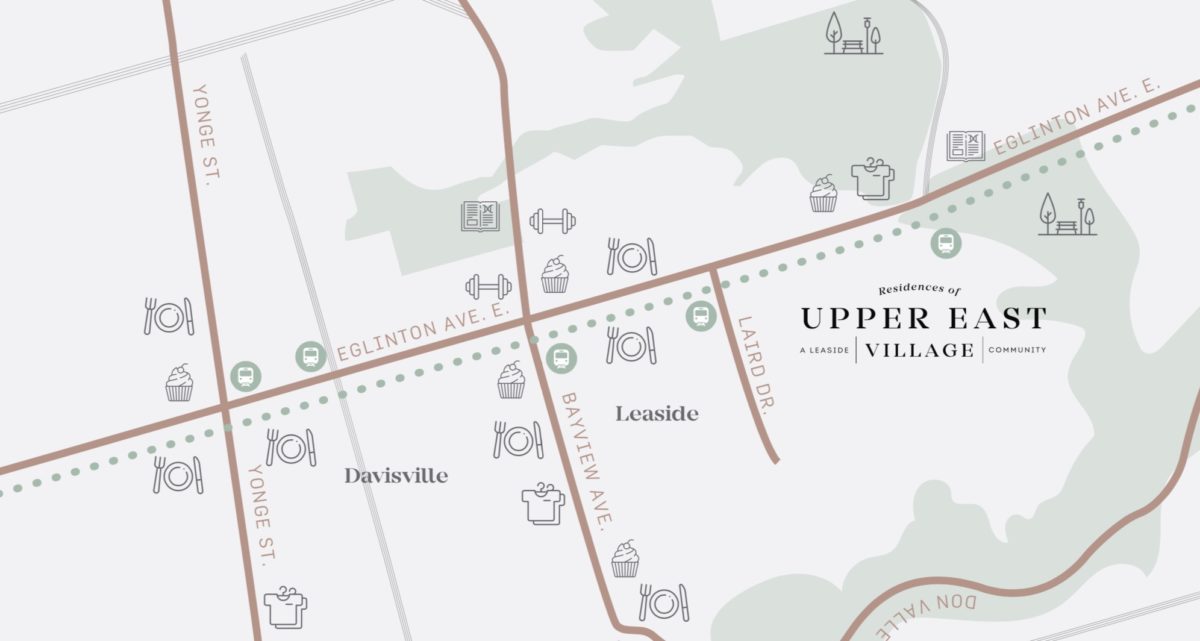 FOR THE EVERYONE
Whether you're looking to downsize or start a family, Upper East Village provides extraordinary facilities and plenty of community charm. Homeowners looking to downsize — yet still live in a spacious home while remaining in the area – will find Upper East Village to be the perfect arrangement. At Upper East Village, you'll have a space to grow without all the hassle of renovating an older home. You'll also have access to Toronto's best public schools like Bessborough, Northlea, and Maurice Cody. This is an opportunity for young families to get into Leaside now.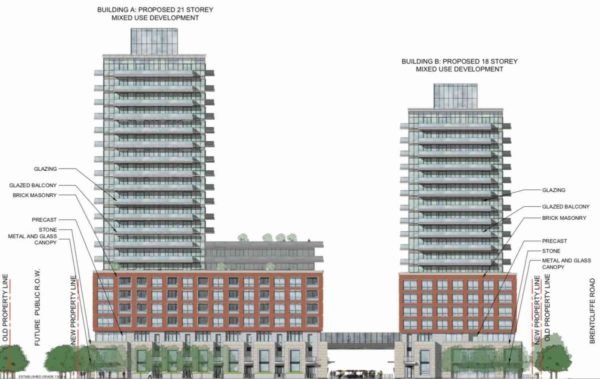 AMENITIES
On the ground floor is where the lobby lounge with 24-hour concierge, and private board room are located. On the second floor are where the first share of the amenities is located, such as the cardio/weight room, yoga/stretch area, and even a massage room! Take a dip in the indoor pool without worrying about the weather outside, and when the weather is right, head to the sunbathing deck and outdoor lounge by the fire pits.
The world-class amenities don't stop at the second floor because the ninth floor houses the party room, catering kitchen, private dining room, and outdoor communal dining and seating with private BBQ. These lush outdoor spaces are designed for both peaceful nights and celebrations.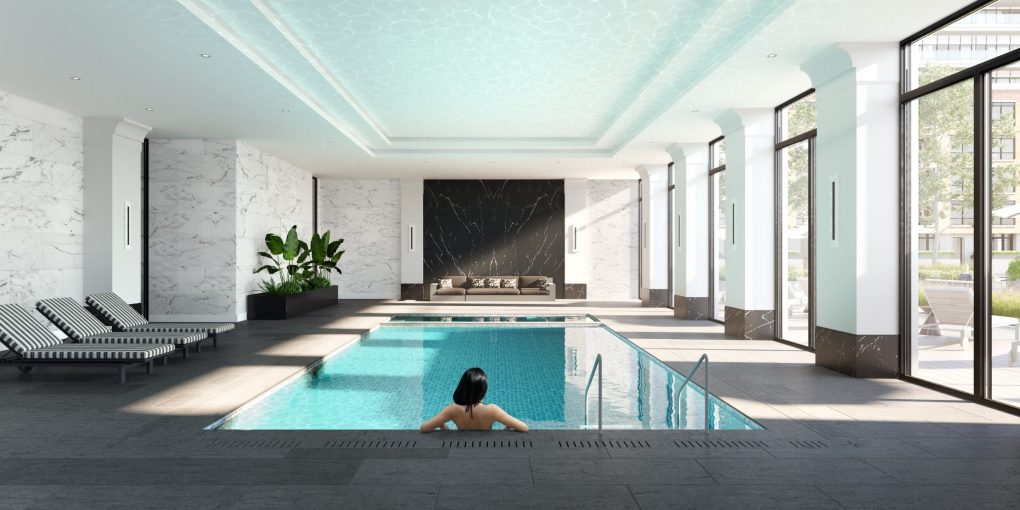 SUITES & TOWNHOMES
With IBI Group spearheading Upper East Village's architecture, you're ensured a liveable, sustainable, and technologically advanced home. The exterior features a familiar, tradition look with a red brick podium reminiscent of the Victorian homes that dot Toronto's streets. However, the modern sensibility is retained with a contemporary glass and metal clad tower lined with beautiful balconies. Condo suites will range from one to two bedroom with many including dens. Designed with space in mind, the suites range from 545-1560 sq. ft.
Overlooking vast parks and the Toronto's skyline from floor-to-ceiling windows, your home is complete with contemporary finishings, a kitchen made for family cooking, length and depth in space, and character. Laminate wide plank flooring, European style cabinetry with soft-close system, quartz slab countertops, a full range of integrated kitchen appliances are only some of the designer-picked features you'll find in your home. Careful craftsmanship lines every corner.
TRANSIT
The Eglinton Crosstown LRT is now under construction and set for completion in 2021 to coincide with Upper East Village's occupancy. Upper East Village is steps to the future Laird Station cutting your transit time significantly while you travel across the GTA. Upper East Village residents can also reach the downtown core quickly via the DVP or by taking the TTC subway – closest station being Eglinton Station less than 15 minutes away. There are also numerous TTC buses running along Eglinton Ave. and nearby roads that will help you reach any of your destinations.
Each element of Upper East Village has been fashioned to blend in seamlessly with the surrounding community—parks and green spaces for communal gathering, convenient retail, a vibrant pedestrian promenade, and other comforts that create a laid back, easy lifestyle.