About The Project
SIMPLY SOPHISTICATED.
uovo is for those who appreciate the finer things. Like a memorable dinner in a perfect little place no one else has discovered yet. Or the appealing dissonance of jazz. Like a beautiful painting, abstract and full of angles and colours.
Beautifully orchestrated and thoughtfully designed, uovo is a uniquely intimate boutique residence at Yonge and Hillsdale. It's steps from Davisville, and just south of Yonge and Eglinton, where the city really comes alive.
Brought to you by the talent of Raw Design, with interiors by renowned EsQape Design, this elegant residence has 62 single-storey suites, each with its own private outdoor space – plus five soaring two-level penthouses with expansive terraces overlooking the city below.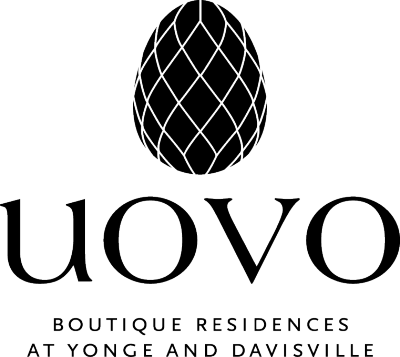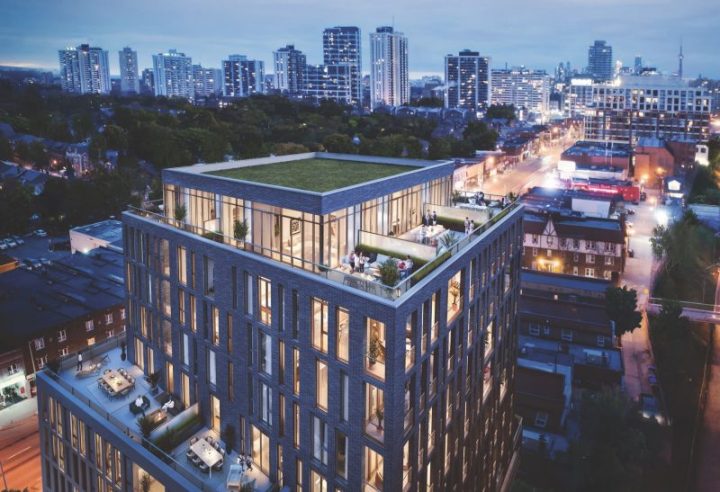 The building's sleek, understated décor soothes the soul, with unexpected touches of elegance like the asymmetrical concierge desk that evokes a modernist sculpture, and the building's unique laser-cut lattice exterior.
Like you, uovo is modern yet timeless. Quietly sophisticated. And right at home in one of the city's most exceptional neighbourhoods.
uovo is the next great residence to be born in Toronto's hottest 'hood. With 11 storeys and only 67 suites, this boutique building is quiet and intimate – but never boring. Suites are spacious, sunlit and thoughtfully designed. Amenities abound, indoors and out. The two-storey penthouses top off the structure with unbeatable views, roomy layouts and beautiful design.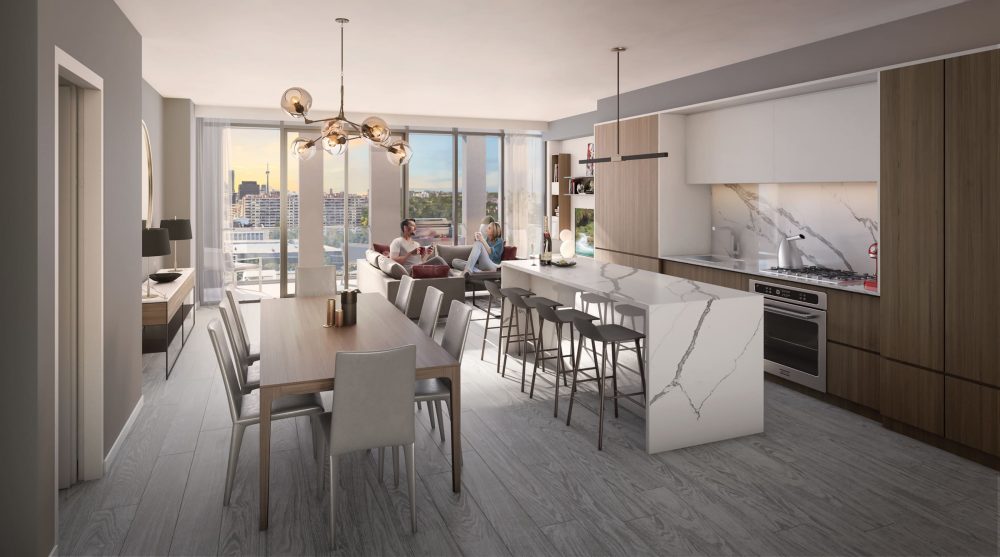 Designed for comfort and an elegant lifestyle, uovo suites are generously designed, with 9- and 10-foot ceilings, floor-to-ceiling windows and great views of the city. The lower levels feature nine suites per level, and upper levels (7-10) have just six. While all suites have outdoor spaces, the seventh-floor terraces truly shine – the building's setback offers large outdoor spaces up to 948 square feet, with plenty of room for patio furniture and entertaining friends and family.
Five breathtaking two-level suites top the building, offering unparalleled living for discerning residents. Large terraces complete the glass-enclosed upper storeys of these elegant suites, offering gracious, private spaces for entertaining, relaxing and enjoying the sun.
uovo is a four-minute walk to Eglinton subway station and a seven-minute walk to Davisville. Plus, it's just a five-minute walk to the future Eglinton Crosstown LRT that's estimated to be complete by 2021 which will make east-west travel a breeze. And if you do have a car, the Allen Expressway is quick drive west, with the DVP a similar distance to the east. And of course, downtown is just a short drive down Yonge Street.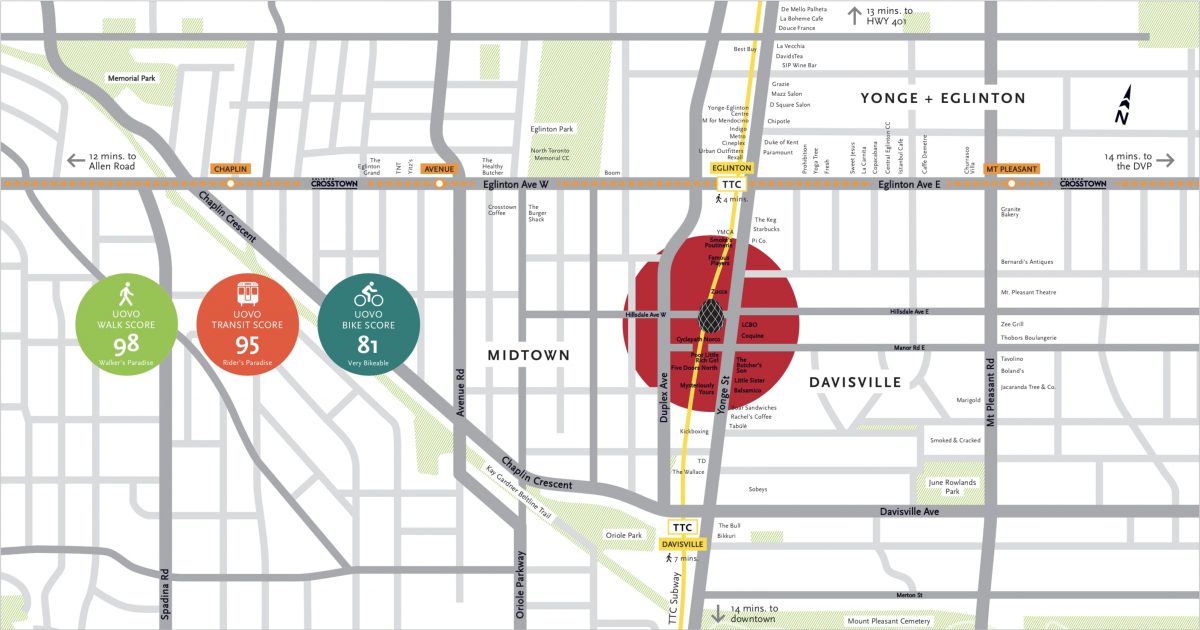 BUILDING AMENITIES
Uovo offers quality amenity spaces including a wellness room with yoga area, designer appointed party lounge, indoor and outdoor dining areas, conveniently located pet spa, and executive concierge services provided 7 days a week. Uovo is an intimate residence offering the very best lifestyle at Yonge and Davisville.
Catching some rays, grilling a ribeye or watching the game – you can do it all in uovo's shared spaces. You'll find the bulk of the building's amenities on the second floor, with a fitness area and a beautiful indoor-outdoor space that's perfect for a party or some solo quiet time.
Head outdoors, and you'll see the elegant terrace has plenty of space for dining, barbecuing and entertaining. Gather around the firepit or beside the beautiful fireplace, enjoy dinner al fresco at the big dining table, or make a beeline to the comfortable lounge chairs to soak up some sun.

PROJECT SUMMARY
Development Name: uovo Boutique Residences
Developer(s): The Sher Corporation
Architect: RAW Architecture & Design
Status: Pre-Construction
Number of Buildings: One
Estimated Occupancy: October 2020
Project Type: Condominium Suites
Location: Leaside: 2114 Yonge Street, Toronto, ON M4S 2A5
Maintenance: approx. $0.62 per sq.ft.
Taxes: approx. 1% of Purchase Price
Downpayment: 20% of Purchase Price
Price Range: Please Register for detailed Pricing
THE FINISHING DETAILS
THE RESIDENCE
• Eleven-storey boutique residence at Yonge and Hillsdale articulated
• Building architecture envisioned by RAW Design
• Lobby and amenities designed by EsQape Design
• Executive concierge services provided 8 hours per day, 7 days a week
• Fitness Centre with yoga area
• Conveniently located pet spa
• Designer appointed lounge with fully equipped kitchen and dining area
• Suite entry doors and corridors detailed by EsQape Design
• Mail area conveniently located next to the lobby
• Two elevators provide access from parking garage to 10th floor
• Parking for residents is available on levels P2, P3 and P4
• Electric vehicle charging conduit are provided on each of the underground levels
• Resident bicycle parking available on levels P1 and P2
• Lockers for storage are available on levels P3 and P4
• Suites designed with exclusive use private balcony and/or terrace†
• Waste and Recycling system with disposal chute access on each floor
CONTEMPORARY BATH
• Custom designed cabinetry*, full-width and full-height mirror with quartz countertop in master ensuite†
• Master ensuite bathrooms with double sink vanity and wall sconces†
• Porcelain 12"x24" floor tile*
• Recessed ceiling light
• 5ft soaker tub, with porcelain tile surround†
• Frameless shower stall with tempered glass, showerhead and recessed potlight†
PEACE OF MIND
• In-suite system to provide all-season individually controlled heating and cooling
• In-suite speaker, intrusion alarm and concierge communication
• Pre-wiring for future suite security system
• Control access to secured resident and visitor underground parking
• Key fob access from underground parking to elevator, lobby and main entrance
† – As per suite plan
YOUR HOME
• Open concept suite design featuring approximately 9ft high ceilings on floors 2-6 and approximately 10ft high ceilings on floors 7-11 in all principal rooms†
• Smooth ceilings throughout
• Expansive floor to ceiling double glazed low E windows†
• 7ft high interior swing doors with lever style handles
• Wide plank laminate flooring in foyer, living/dining areas, bedroom(s), den, study and kitchen†
• Ceramic tile flooring in laundry room
• Contemporary 4" square profile baseboards with coordinating door casing
• Suites designed with exclusive use balconies and/or terraces with sliding or swing door†.
• Outdoor spaces provided with electrical outlet, and gas bib for BBQ connection†
• Hose bib provided on select terraces†
• Low VOC paint. Semi-gloss white throughout laundry room, powder room and bathroom(s) areas. Flat white paint throughout all other principal rooms
• All trim painted in white semi-gloss
• White Decora style switches and receptacles throughout
• In-suite fire sprinkler system
• Pre-wired for cable TV in all bedroom(s), living room and den
• Pre-wired for telephone line in all bedroom(s), living room and den
• Ceiling light fixtures provided in foyer, kitchen and walk-in closet(s)†
• Capped ceiling outlet(s) in kitchen and living area†
• Pre-wired for future high-speed internet
• In-suite Energy Star® front-load stacked washer and dryer
MODERN KITCHEN
• European inspired gourmet kitchen, approximately 13ft†* long with integrated appliances:
30"panelled frost free integrated refrigerator with bottom drawer freeze, 30" gas cooktop, concealed hood fan, 30" self-cleaning oven, 24" panelled dishwasher, in-cabinet stainless steel microwave, as per plan
• Under cabinet lighting
• Quartz countertop and backsplash*
• Single bowl under-mounted stainless steel sink and a single lever pull out faucet
• Track LED light fixture†
The Sher Corporation
Armed with a strong understanding of urban design and a future-forward approach to real estate, The Sher Corporation is focused on developing high-quality residences that add value to the current architectural landscape. Sher is dedicated to creating outstanding residences that push the design envelope, while seamlessly weaving through the existing urban fabric.
Building on this impeccable foundation, The Sher Corporation is devoted to enriching the lives of homeowners with high-quality spaces that incorporate the latest trends in architecture and design with timeless forms.
An incredible portfolio and an excellent reputation with clients keeps Sher closely attuned to the real estate landscape. The Sher Corporation is undoubtedly a vital force in the future of real estate, providing insights into buyer preferences and the market around the world.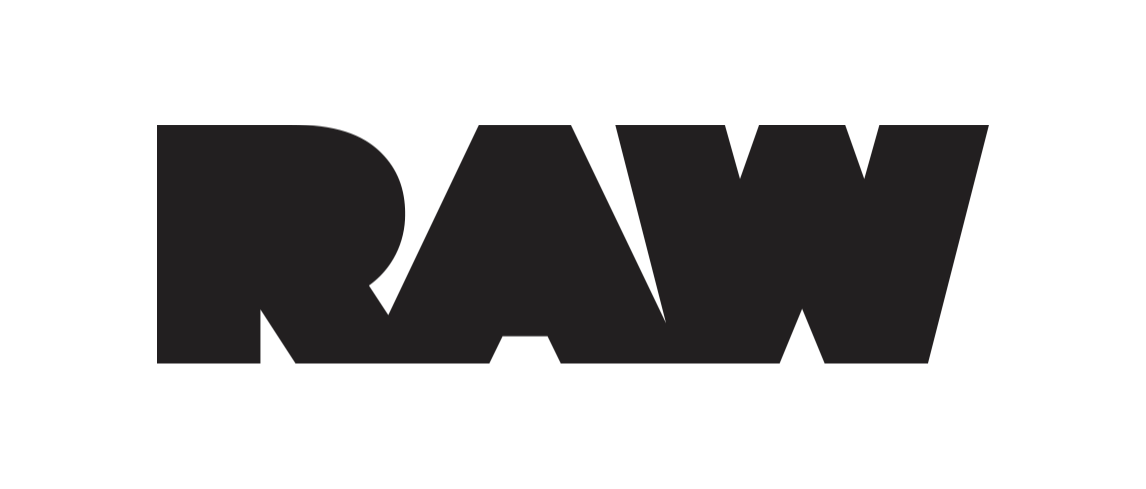 RAW Architecture & Design
RAW Design, was launched in November 2007. As one of Toronto's most vibrant architectural studios, RAW possesses an international design sensibility and a wealth of local experience. They are a full-service architectural firm and their professional experience comprises a variety of scales and building types, varying in size from 10,000 to 1,000,000 square feet. Raw's portfolio includes community greenhouses and community master plans, single-family houses and large multi-unit residential complexes, mixed-use projects and specialized office environments.
RAW won the OAA award for Best Emerging Practice of 2009 and the Lang Tannery Project in Kitchener, Ontario has been recognized as Best Overall Development with a 2011 Brownie Award. At RAW, design excellence and creativity are not expensive options – they are fundamental to realizing a building within the constraints of budget and schedule. At RAW, design excellence and creativity are not added value, they are primary values.
FLOOR PLANS
SUITE FINISHES & FEATURES
Smooth finish ceilings with heights of approximately 9'0″ on floors 2-6 and 10'0″ on floors 7-10
Expansive floor to ceiling double glazed low E windows
Wide plank laminate flooring in foyer, living/dining areas, bedrooms(s), den, study, and kitchen
Ceramic tile flooring in laundry room
Italian gourmet kitchen with integrated appliances consisting of: 30″ gas cooktop, concealed hood fan, 30″ self-cleaning oven, 30″ panelled frost-free refrigerator with bottom drawer freezer, 24″panelled dishwasher, and in-cabinet stainless steel microwave and pantry, as per plan
Quartz kitchen countertop with single bowl under-mounted stainless steel sink
Register below for more information!
Register your interest today!