About The Project
A NEW CONDO DEVELOPMENT BY SHANE-BAGHAI
Leaside Manor is a New Condo development by Shane-Baghai located at Southvale and Millwood, Toronto. This is your chance of a lifetime to live in one of the most popular neighbourhoods in Toronto, built by one of GTA's most sought after builders. Located on 3 Southvale Drive, Leaside Manor will be established in a cultivated and refined community that is home to luscious green space and parkland, the finest selection of schools, and one of Toronto's best shopping districts. Residents of Leaside Manor will live in a high profile neighbourhood in refined luxury.

OUT OF THE ORDINARY – ALWAYS DIFFERENT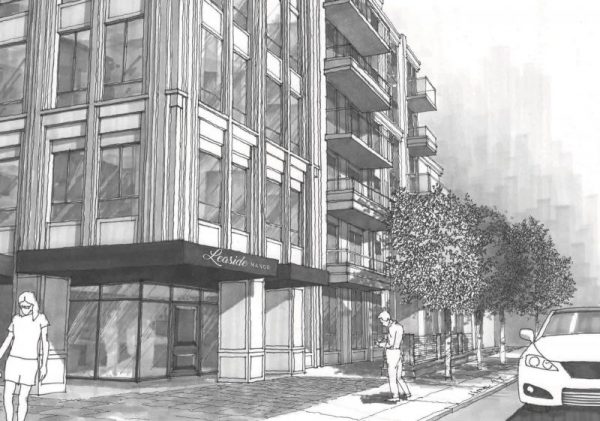 The design and interiors of Leaside Manor will mirror the distinguished lifestyle of the esteemed City in which it will be located. Warm tones will welcome you home when you step into the Lobby and the exotic wood ceiling will reflect and highlight the beautiful accent wall, dignifying this space. Get away from it all, unwind and relax in a stylish lounge with grand contemporary décor. Entertain your guests or delight in privacy in this beautiful lofty room.
The 7-storey building is planned to rise on the south side of Southvale Drive, steps west of the Laird and Millwood intersection. Leaside Manor will feature 38 luxury suites comprised of 2 bedroom + den and 3 bedroom + den units, terraces, a fitness room, 24-hour surveillance, low maintenance fees with unit prices starting from $1 million.
BUILDING AMENITIES
Release the stresses of the day, re-energize your body, and let your mind be renewed on the latest equipment and workout machines in the exercise room. Relax on one of the beautiful outdoor patios, or curl up by the fire in the lounge of the contemporary multipurpose room. Whether you're entertaining friends at the bar, or meeting up with clients in the business centre, Leaside Manor offers you exclusive access to all the luxury amenities you need. There's even a grooming room complete with a dog wash station, to help keep your furry companions looking their best.
IMPECCABLE FINISHES
The design and interiors of Leaside Manors will mirror the unique lifestyle of the city in which it will be established. A warm tone will welcome you home when you step into the lobby, and the exotic wood ceiling will reflect and highlight the beautifully accented walls, dignifying this space. The residential balconies and terraces will be finished in a clear glazing.
FLOORS: A selection of European porcelain tile, engineered wide plank hardwood. Ultimate quality carpeting. All handpicked by our expert designers at WZMH
UNIT & UNDERGROUND SECURITY SYSTEM: The electronic concierge system together with the smart home devices will be designed and installed by Baghai Digital. Full information and literature will become available to all our purchasers prior to finalized purchase. Briefly, the above includes remotely operated locks, cameras, voice activation, two-way voice & camera system, recording of all traffic and activities, sound system, a smart 80" TV in all 2 & 3 bedroom residences, and many more astounding features.
DOORS & WOOD TRIM: All solid core wood doors with engineered hinges, handcrafted baseboards, casings, mouldings, shelves and cabinetry by Shane Baghai Artisans, all designed, prepared and assembled at our workshop in Caledon, Ontario. Each Living Room will have a linear electric fireplace with exquisite wood trimming and spacious shelves.
PLUMBING FIXTURES: All plumbing fixtures are selected by our interior design and mechanical engineering consultants for ultimate performance; water saving features, pressure and temperature balancing, soft-close toilet seats and covers, the latest combination toilet and bidet in all Master Ensuites. Frost-free hose bibs in all terraces.
KITCHEN & VANITIES: Specially designed and selected Italian made kitchen cabinets and vanities by Aran of Silvi Marina, Province of Teramo, Abruzzo, Italy (a long-term partner with Baghai built residences). Glass tiled backsplash in Kitchen-Imported kitchen hardware.
BAGHAI DEVELOPMENT LIMITED

Baghai Development Limited was one of the first companies to register with the Ontario New Home Warranty Program, and ever since then has enjoyed a rating of "Excellent" for 17 continuous years. Shane himself has served five years on the board of directors of the Toronto Home Builders' Association, and chaired several key committees.
Baghai Development Limited was established in January 1976 to construct high caliber, custom homes, on choice lands owned by Shane Baghai. Within five years, Baghai Development Ltd. was noted all over Greater Toronto for their superior designed and built custom homes. Within two years of incorporation, the company had purchased land in North York and Markham. Many prestigious communities were built and, as the company's reputation grew, many families felt confident enough to purchase their new homes from blueprints alone.
RAFAEL + BIGAUSKAS ARCHITECTS
Rafael + Bigauskas Architects Inc. is a Toronto based architectural practice. The principals bring to the firm a breadth of experience spanning twenty-five years, and a portfolio which includes residential, mixed-use, commercial and retail projects of varying scales and types.
The firm's residential portfolio is extensive and comprehensive. The total built residential volume exceeds 35,000 dwelling units, which comprises more than 150 buildings of various forms and applications. The building forms range from single family homes, townhouses, and subdivisions to mid-rise and high-rise residential. These dwelling units accommodated a variety of residential applications including rental, cooperative, government subsidized and condominium building types.
FLOOR PLANS
APPLIANCES: Appliances supplied by Miele of Germany, the latest 2018/2019 models: natural gas range, separate oven, microwave, dishwasher, refrigerator/freezer all in. Choice of either stainless steel finish or wood panelled appliances to match the kitchen cabinets.
ELECTRICAL: The entire electrical system of the building is designed by Shane Baghai engineers and will include the latest energy saving long-running LED lighting throughout the residences and the entire building.
DON'T GET CAUGHT IN THE DARK: Washer and dryer in all residences. Natural Gas, stainless steel BBQ equipped ignition system for all units with balconies.
Register your interest today!