About The Project
Project Name: Crosstown Condos
Location: 844 Don Mills Road, North York, ON M3C 1V7
Developer: Aspen Ridge Homes, Metrus
Architect:  Core Architects
Landscape Architect: Gustavo Maurano
Interior Design: Mike Niven Design Inc.
Status: Pre-construction
Total number of buildings: 18
Storeys:
Total no. of units:
Suite Size:
Unit Mix: 1-B, 2-B, 3-B

A new master-planned community is coming to you – introducing Crosstown by Aspen Ridge Homes at Eglinton and Don Mills. A 60-acre site featuring 18 commercial and condominium towers surrounded by picturesque parklands and convenient transit options, residents at Crosstown will never want to leave.
DEVELOPER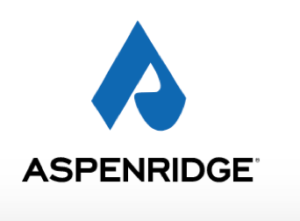 Aspen Ridge Homes has been building high-quality homes for more than twenty-five years; a builder who takes pride in their expertise and craftsmanship. Aspen Ridge Homes continues to deliver quality service to its clients and building communities that bring people together for work, play, and leisure.
ARCHITECT

Core Architects Inc. is the brains behind many of Toronto's most architecturally significant buildings. Their portfolio includes the design of over 160 condominium projects, over 200 million square feet of residential development, private residences, recreational and sports clubs, restaurants, hotels, resorts, and commercial space.
AMENITIES
Crosstown will be a 60-acre site consisting of residential, commercial, and recreational spaces.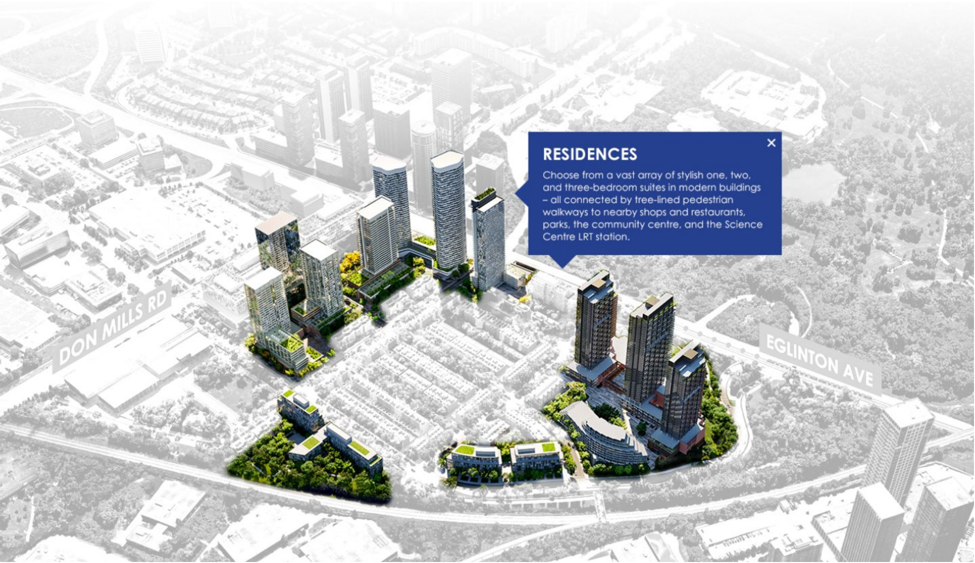 Many condominiums surround Crosstown, with suites ranging from one-bedroom, two-bedrooms, and three-bedrooms perfect for young professionals and families who are looking to expand. The condos will be linked to pathways that lead to the outdoor amenities such as the restaurants, cafes, community centre and the Science Centre LRT station.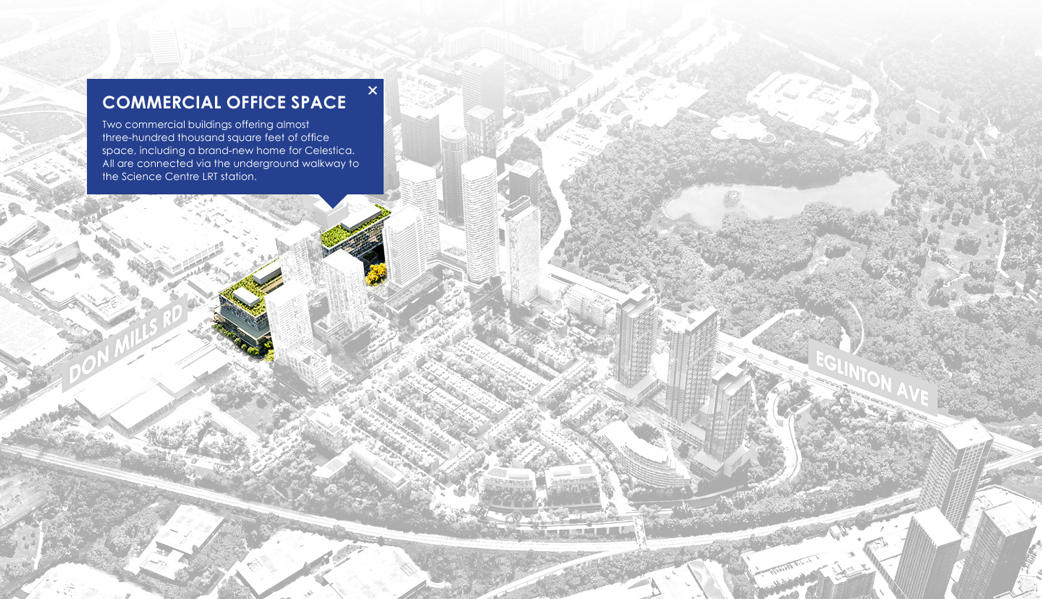 This master-planned community will provide exciting new employment opportunities; two buildings will provide approximately 300,000 Sq. Ft of commercial office space, and includes the new Celestica site. Commuting to and from work will be easy – the office buildings will connect underground to the TTC bus terminal on Don Mills and the new Science Centre station on the Crosstown LRT line.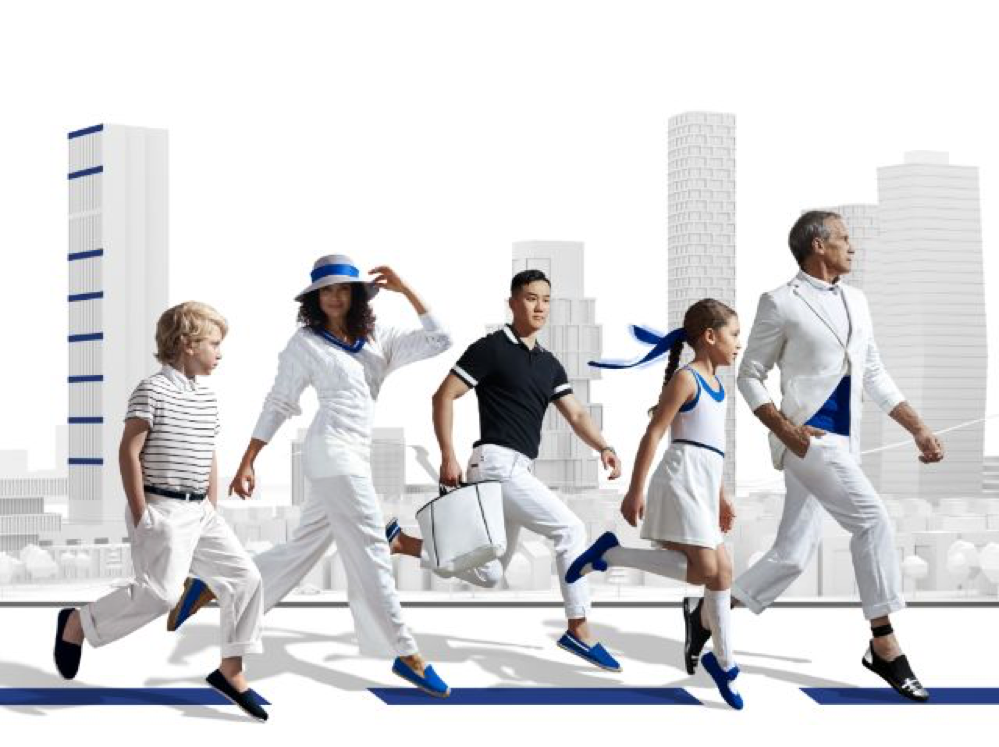 Residents won't have to go far for amenities; they can find anything they need within reach! Fronting Don Mills Rd will be a community centre with two ice rinks, state-of-the-art gym, basketball court, yoga studio and meeting spaces. The community centre is an emblem of what Crosstown has to offer – bringing everyone in the community together through recreational activities and cultural pieces.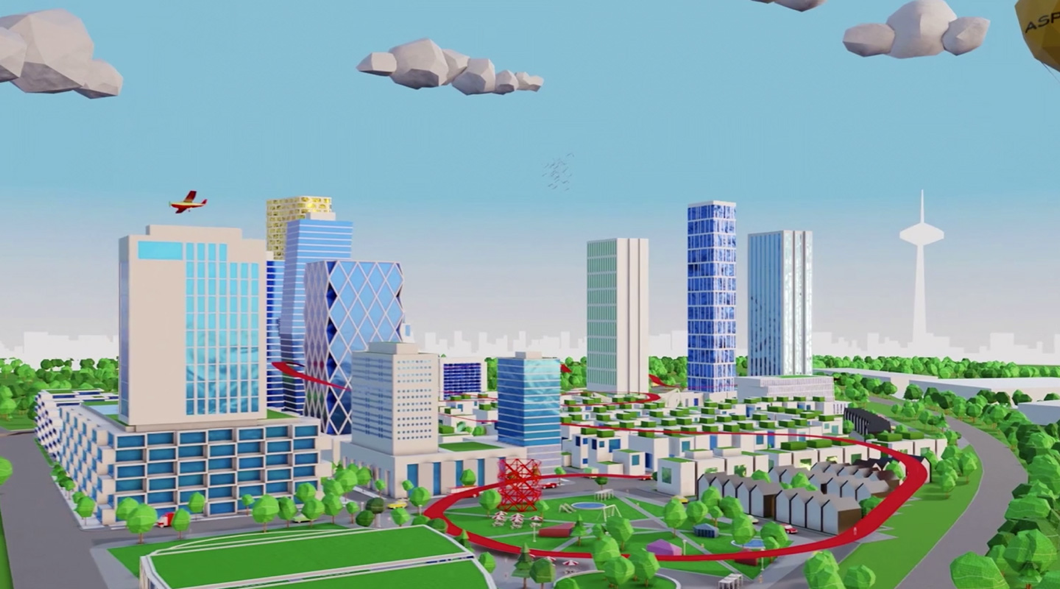 Residents at Crosstown Condos have the sole advantage of being surrounded by acres of nature, parklands, and outdoor spaces. The parks in Crosstown are linked with trails and walkways perfect for long walks and exploring what the neighbourhood has to offer. Outside the community centre is a wide five-acre park with a playground for kids. At the southwest end of the site, a new bridge will connect to the walking trail of Sunnybrook Park.
Outside the resident's doorstep is the Crosstown Square, spanning one acre of outdoor landscaped space. Spend your weekend afternoons catching up with your friends in the outdoor public space and grabbing food at the surrounding restaurants and boutique cafes.
At the center of the Crosstown are a variety of residential townhomes, encompassed by parklands and private outdoor areas.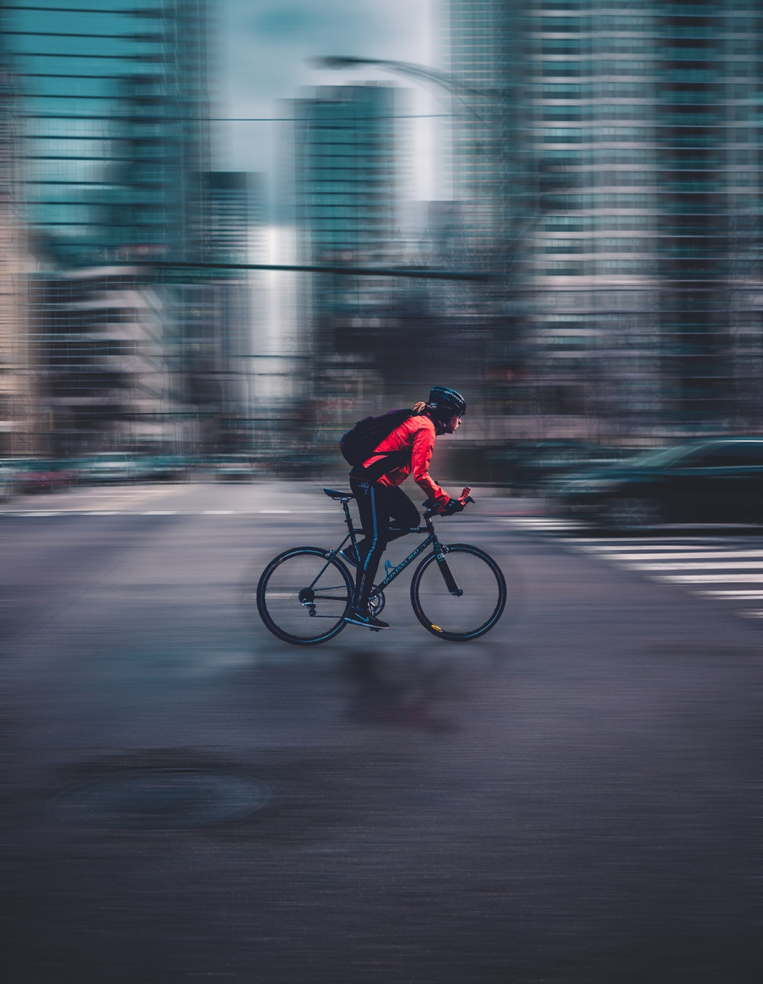 Bask in the sights of the lush parklands and take up a new hobby: biking! Perfect for residents who bike, separate bike lanes are proposed on both sides of Eglinton Ave. that runs from Jane St. in the west end to Kenny Road in the east end.
LOCATION
Although Crosstown Condos is situated in the centre of acres of parkland, residents also have a myriad of educational centres, cultural centres and luxury retail outlets at the Shops at Don Mills nearby.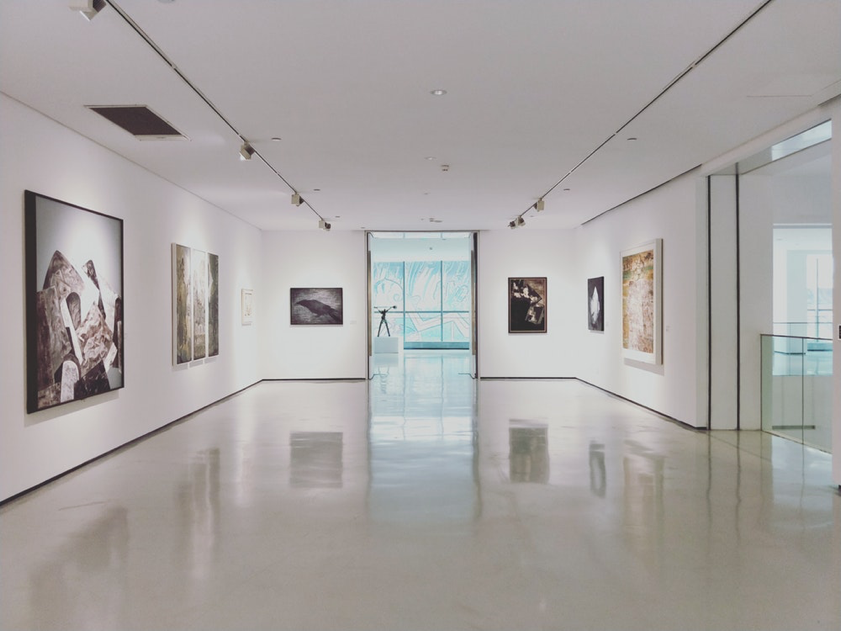 Only a 12-minute walk away is the Aga Khan Museum, with programs such as performances, lectures, workshops, and films that offer insight into Islamic culture. Other cultural centres nearby include the Korean Canadian Cultural Association of Metropolitan Toronto and the Noor Cultural Centre.
The Ontario Science Centre is only an 11-minute walk away where you can discover scientific theories and new experiences. The Science Centre has offered a hands-on educational experience to more than 53 million visitors since its founding in 1969. Residents can visit the planetarium, compare theories, play in the science arcade, and stroll outside through the Cohon Family Nature Escape.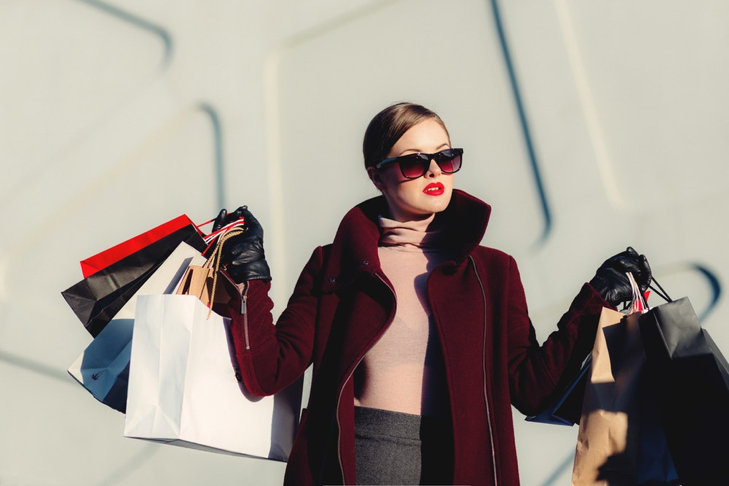 Residents at Crosstown Condos are also a mere 14-minute walk away from Shops at Don Mills, an outdoor mall with boutique retail stores, cafes, and restaurants. Shop at Pandora, Anthropologie, Banana Republic, and Roots before you catch your movie at the Cineplex VIP Cinemas. After your film, have a treat at Demetres, Ice 'N Cake, Joeys, or Jack Astors to name a few.
TRANSIT
Crosstown is located nearby many transit hubs that make it easy for its residents to get around with ease. Many bus routes run through the area that can get residents to Eglinton station in just under 30 minutes or Don Mills Station in only 20 minutes. From Eglinton station, you can reach Downtown Toronto in just under 20 minutes.
Alternatively, getting around by car is accessible with the Don Valley Pkwy to your east and Highway 401 to your north.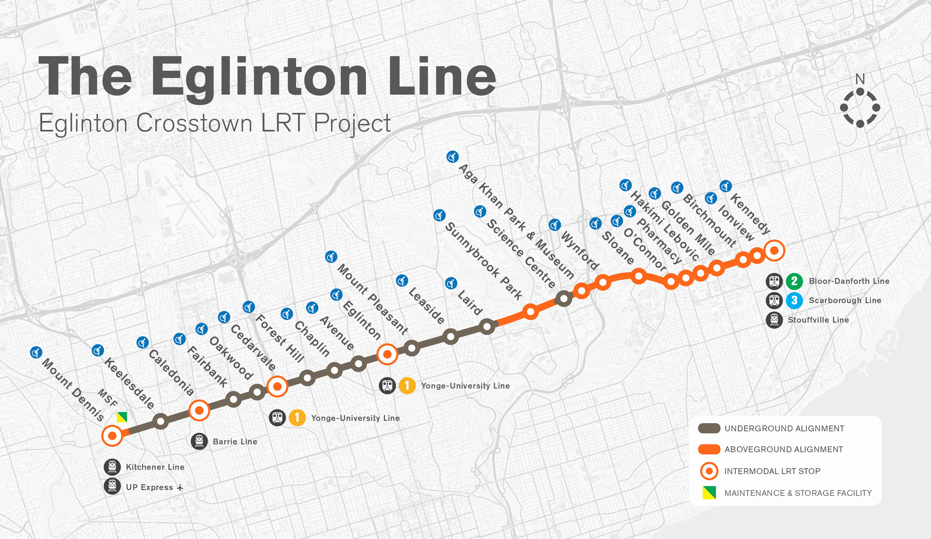 Rapid transit is coming to Crosstown – the Eglinton Crosstown Light Rail Transit project is set to operate in 2021. The Science Centre Station – one of the stops on the future LRT is directly accessible through underground access of the office towers.
Crosstown Condos will be a true community – with everything you need at your fingertips, reliable transit, and new employment opportunities.
REGISTER YOUR INTEREST TODAY!