About The Project
Chateau Auberge is coming early 2019. Register below to receive important updates!
Chateau Auberge arrives elegantly as the third and final phase of Auberge on the Park. Enjoy a truly elevated sense of living with sweeping terraces that overlook 27,000 sq, ft. of lush parkland. What's more, you'll have Toronto's sleek skyline to accompany the breathtaking views. Chateau Auberge has been designed with French-inspired details that infuse a spacious yet warm and modern feeling. With the two-storey glass-encased lobby, every entry and exit will be just as grand as your suite.
Auberge on the Park is an homage to the iconic status of the former resort, from its bright beginnings in the early 60s, through its continuous reincarnation to hotel, to car lot, to now. Initially selected for its proximity to the 5 Don Valley Parkway and surrounding 600 acres of parkland, Inn on the Park was geared towards upper-class businessmen. It included fine dining, Canada's first disco, Olympic-sized pools and one of the first-ever on-site fitness clubs. At the time, Inn on the Park epitomized innovation. It was a place to see and be seen.  Auberge on the Park rises from this history-steeped location, breathing new life into the site. It brings forth a fresh, new vigour, highlighted by lush, surrounding parklands.

Enjoyed from the comfort of terraced balconies, Auberge on the Park is a breath of fresh air, complete with the glimmer of a historical icon. Adjacent to greenery like Edwards Gardens and Sunnybrook Park, Auberge on the Park is neatly nestled amongst some of Toronto's most well-to-do neighbourhoods. With Leaside and Bayview Village just down the road, the Bridle Path and Hoggs Hollow to the north, as well as notable streets Mt. Pleasant and Yonge St. just to the west, the area surrounding Leslie and Eglinton is wreathed by affluence and a wealth of amenity options.
AN INTERWOVEN NETWORK OF PARKLAND
Whether it's to park yourself on a bench with a book or beneath a shady tree, the verdant pull of park space is irresistible. Luckily, you happen to be in the enviable position of living amidst a vast network of lush parklands, making this particular area of Toronto especially unique.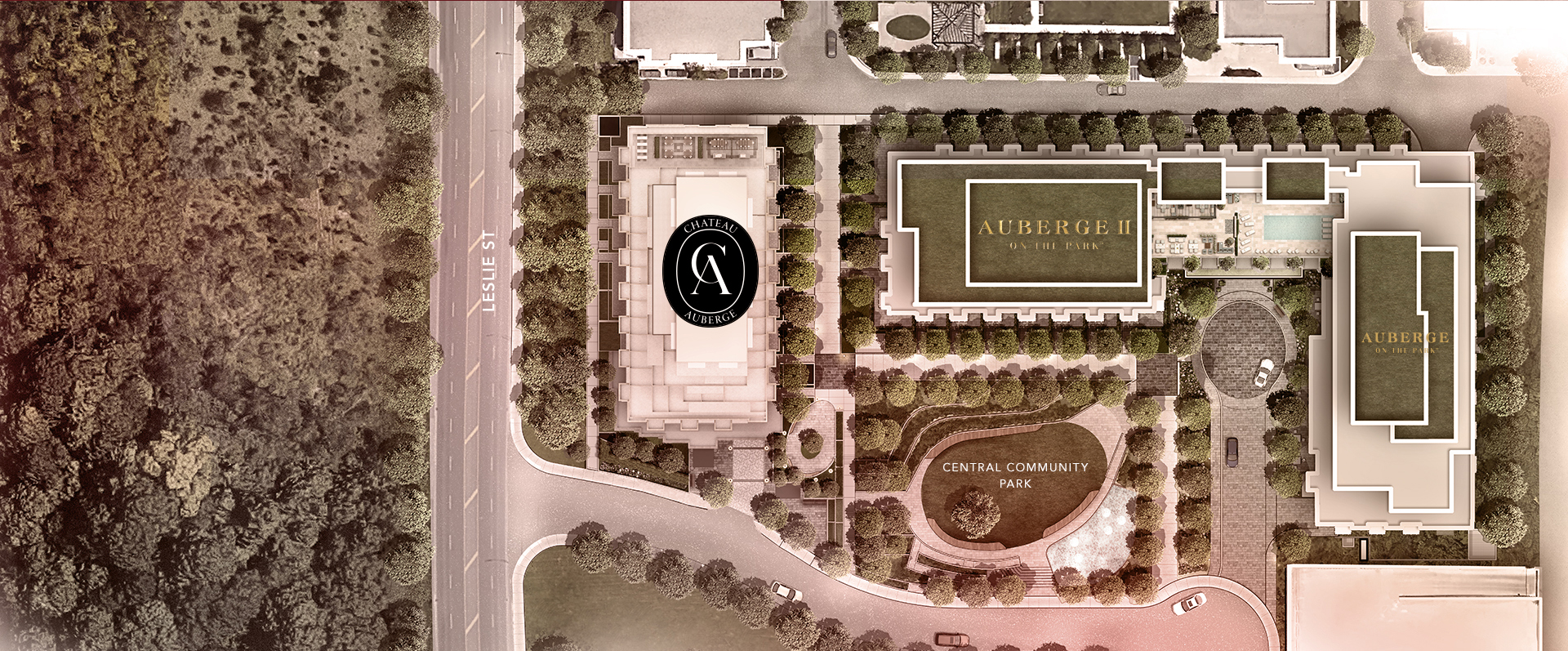 The Don River stretches about 38km from the Oak Ridges Moraine, all the way down to Lake Ontario, with many trail opportunities and manicured gardens to meander through along the way. The Lower Don Parklands is one of the largest urban environmental restoration projects in the world.
THINGS TO DO
Amidst the extravagant estate homes of Bridle Path and Hoggs Hollow, a breeze away from boutique-lined Mount Pleasant and effervescent Yonge Street, the aura surrounding Auberge is one steeped in opulence, history, leisure and a wealth of plush, green parkland. When you're encircled by Sunnybrook Park's 150-acres of nature, it'll be hard not to pick up a few nature-related hobbies! The sprawling public park is great for birdwatching, hiking, dog-walking, and even taking some horseback lessons at Sunnybrook Stables.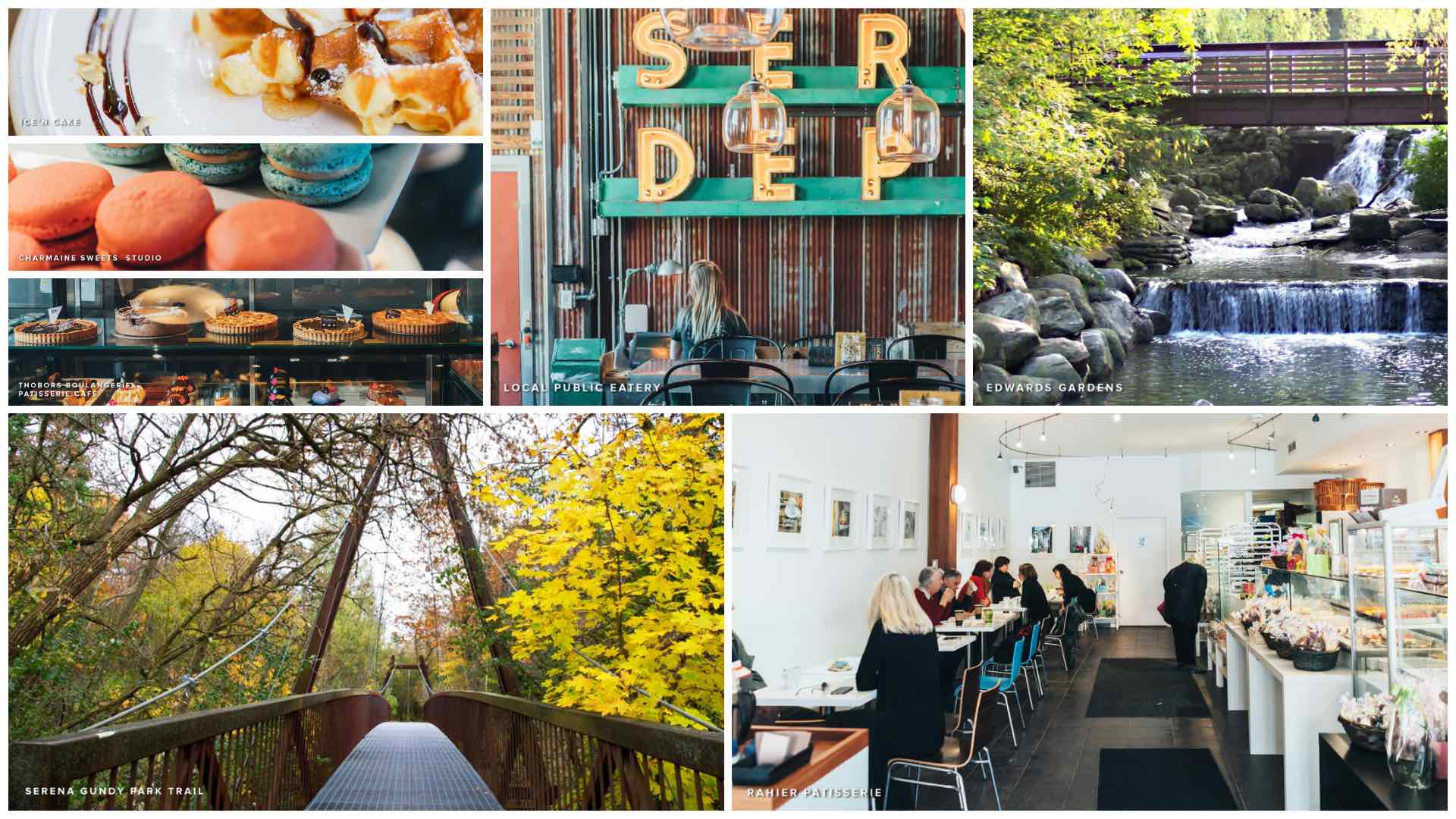 Auberge truly has the best of both worlds – 15 minutes from downtown Toronto, but still plenty of things to do in the community too. The open-air Shops at Don Mills offer high-end retailers such as Murale, Oak + Fort, Michael Kors, and Coach. Or you can take a day trip to the Ontario Science Centre where you'll find both kids and adults engrossed in a world of learning. The Aga Khan Museum is another great point of interest showcasing great historical treasures and artistic installations. If neither of these is to your taste, Auberge has many other entertainment spots such as Sunnybrook Stables, Cineplex VIP Cinemas Don Mills, Sky Zone Trampoline Park, Japanese Canadian Cultural Centre, and the Toronto Botanical Garden.
Immersing yourself in a lavish environment isn't complete without equally outstanding dining. There is something decidedly exciting about dining out at a great restaurant and creating a night of lasting memories and conversations. Try Fabbrica's rustic Italian dishes, L'avenue's French Bistro delights, or Asian-fusion at Lemongrass. Still feeling hungry? You'll love the charming European pastries offered by the numerous high-quality patisseries in the area.
AREA ACADEMICS
Auberge's excellent amenities are complemented by its perfect location that is surrounded by first-rate schools. These are just a selection of schools in the area: Seneca Hill Private School, Maria Montessori School, Valley Park Middle School, Marc Garneau Collegiate Institute, St. Anselm Catholic School, Sunnybrook School, Leaside High school, Bessborough Dr. Elementary & Middle School, and more. Your close access to the DVP means Toronto's best universities and colleges are a short drive away too.
AMENITIES
You will never feel like you're coming back to a cold, concrete condo when you're greeted by a tree-lined promenade and central community park every day. The natural surroundings flow into the grand, two-storey lobby complete with decorative flourishes, richly marbled surfaces, grained woodwork – evoking a calm and welcoming space for you to return to. Besides the lobby, you have plenty to look forward to at Auberge because the first floor also contains a multimedia room, party room, private dining room, and lounge.
A visit to the fifth floor will leave you feeling relaxed and refreshed. Cool down in the outdoor swimming pool during the summer and unwind after a long day at the whirlpool spa. Dry off and head to the terrace dining area or private outdoor cabanas and fire up the BBQ grill for some juicy burgers and skewers. There's no better place to burn off those calories than at condo's fitness centre complete with yoga and spin studio. Of course, your beloved furry best friend has their own pet amenity space on this floor too.
TECH IT OUT
Have you ever held up the parking garage entrance looking for your key fob? The parking garage at Auberge features an automated license plate recognition system to manage access and security in and out of the garage, so you'll never have that problem again. In addition, your suite is armed with the Smart Suite alarm system that connects to your smartphone and the concierge station. You can view live footage of your suite, lock your doors, and video chat with other residents using the mobile app which connects with the Smart Suite wall pad.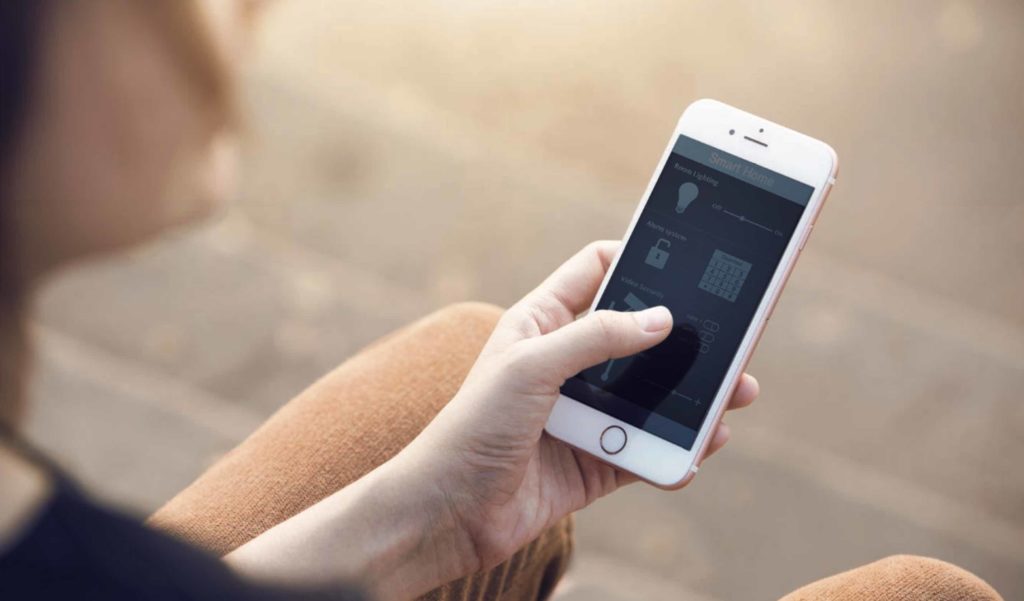 SECURITY: The Smart Suite alarm system connects to your smartphone and the concierge station, so you can feel safe 24/7. Plus, surveillance cameras are monitored by the concierge and you can view the live footage on your very own Smart Suite wall pad and mobile app.
EASE: The parking garage at Auberge features an automated license plate recognition system to manage access and security into the garage, so you never have to worry about remembering your key or fob. In addition, the community has integrated electronic lockers that allow for easy management of package delivery.
CONVENIENCE: Your Smart Suite wall pad is integrated with your smartphone, allowing you to use either for inter-community video communication, energy management and more. Even your door lock can be controlled by your smartphone, or a conventional key or fob if you prefer.
THE EGLINTON CROSSTOWN LRT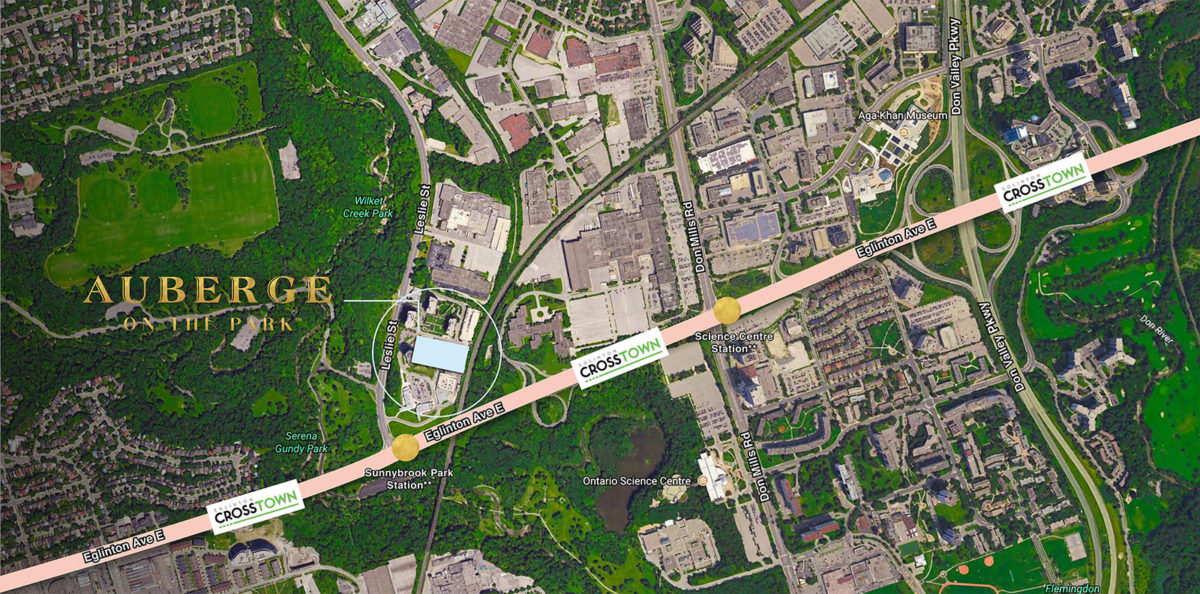 The future Eglinton Crosstown LRT* will feature an accessible, surface-level stop right at Leslie and Eglinton. The Sunnybrook Park stop is less than a 5-minute walk from Auberge, whisking passengers across the city in dedicated right-of-way transit lanes. Projected to be complete in 2021, the route will stretch from Mount Dennis in Toronto's west end, all the way to Kennedy Station in Scarborough – a 19km corridor. With 25 stations and stops, The Crosstown will link to 54 bus routes, three subway stations and various GO Transit lines. If you rather drive, the DVP is only 4 minutes away from where you can quickly transfer to any of the other major highways.
PROJECT SUMMARY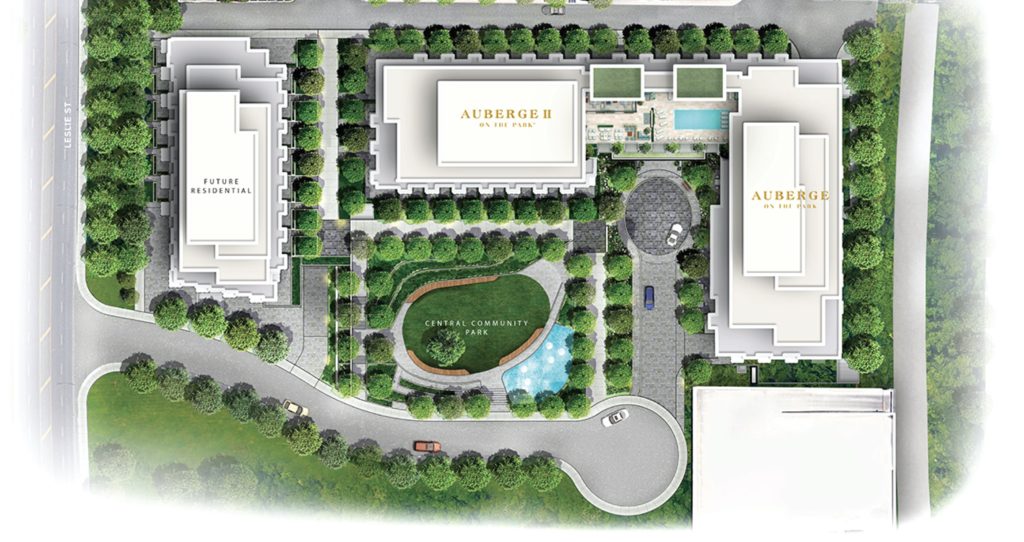 Development Name: Auberge on the Park
Developer(s): Tridel® Developments
Architect: Graziani + Corazza Architects
Status: Pre-Construction
Number of Buildings: Three
Estimated Occupancy: Summer 2022 (Phase 1 & 2), early 2023 (Phase 3)
Project Type: Condominiums and Townhomes
Location: 1095 Leslie St, Toronto, ON M3C 0E3, Canada
Number of Floors: 45 (Phase 1), 29 (Phase 2), 39 (Phase 3)
Maintenance: approx $0.60 per square foot
Taxes: approx. 0.66% of Purchase Price
Downpayment: 20% of Purchase Price
Price Range: Please Register for Prices and Floor Plans
ENVIRONMENTALLY FRIENDLY
As the largest builder of sustainable condominiums in Canada, Tridel is committed to building communities that are environmentally responsible, energy efficient and healthy places to live. Designed with the surrounding natural environment in mind, Auberge will be partly built with locally sourced or recycled content and an aim to recycle at least 75% of construction waste. Additionally, stormwater is will be captured for the building's plants and the building will utilize low flow plumbing fixtures to reduce water consumption by over 50%. Lastly, to accommodate the increasing number of electric vehicles owners, residents will have access to electric vehicle charging stations.
SIGNATURE COLLECTION - FEATURES & FINISHES
GENERAL
• Smooth ceiling finish to all areas.
• Interior walls are primed and then painted with two coats of off-white, quality latex paint (bath- rooms, and all woodwork and trim painted with durable white semi-gloss paint). Paints have low levels of volatile organic compounds (VOC's)
• Balconies to receive one duplex receptacle.
• Terraces to receive paving stones and one duplex receptacle.
• Two-storey suites with stairs (where indicated on floorplan) will feature contemporary wood stair- case with metal pickets and handrail.
BATHROOMS
• Vanity cabinetry including single polished square edge natural stone or quartz countertop with white basin.
• Medicine cabinet with integrated mirror in master ensuite and main bathroom.
• Framed mirror in powder room(s).
• Integrated vanity mirror lighting with potlight over tub, shower, and vanity.
• White soaker bathtub with fixed glass tub screen.
• Frameless glass shower enclosure with chrome hardware.
• Low flow chrome, widespread faucet in master ensuite and powder room.
• Single lever faucet in all other bathroom(s), and integrated low flow chrome, high-pressure showerhead and handheld.
• Temperature controlled and pressure balanced, chrome shower faucet.
• Porcelain or natural stone tiles in shower or tub enclosure and on vanity wall in master ensuite.
• Porcelain tiles in shower or tub enclosure and on vanity wall of all other bathroom(s), excluding powder room(s).
LAUNDRY
• Stacked or side-by-side front loading white dryer and Energy Star, high efficiency, front loading white washer (complete with stainless steel flexible hoses).
KITCHEN
• Contemporary laminate and/or wood composite cabinetry including upper cabinets with valence.
• Double square edge granite or engineered quartz countertop with matching granite or engineered quartz slab backsplash (seams may be present in backsplash).
• Stainless steel undermount sink and low flow chrome, single lever kitchen faucet with pull out or down spray.
• Potlights & LED valence lighting.
• Signature suites (with the exception of suites on PH & GPH floors) will feature appliances with 24" Miele, Energy Star high efficiency, fully integrated panelled dishwasher, 30" Miele, Energy Star fully integrated panelled refrigerator, 30" Hood fan pull out, 30" Miele ceramic cooktop, 30" Miele wall oven, and Miele stainless steel built-in microwave.
• PH & GPH suites will feature appliances with 24" Miele, Energy Star high efficiency, fully integrated panelled dishwasher, 36" Miele Energy Star fully integrated panelled refrigerator, 36" Hood fan pull out, 36" Miele ceramic cooktop, 30" Miele wall oven, Miele stainless steel built-in microwave.
FLOOR COVERINGS
• Engineered hardwood floating floor with acoustic underlay in all rooms excluding powder room(s), bathroom(s) and laundry.
• Porcelain or natural stone floor tile in master ensuite and powder room(s).
• Porcelain floor tile in laundry, storage areas and other bathroom(s).
All features and finishes subject to change without notice, E.&O.E October 2017.
TRIDEL® DEVELOPMENTS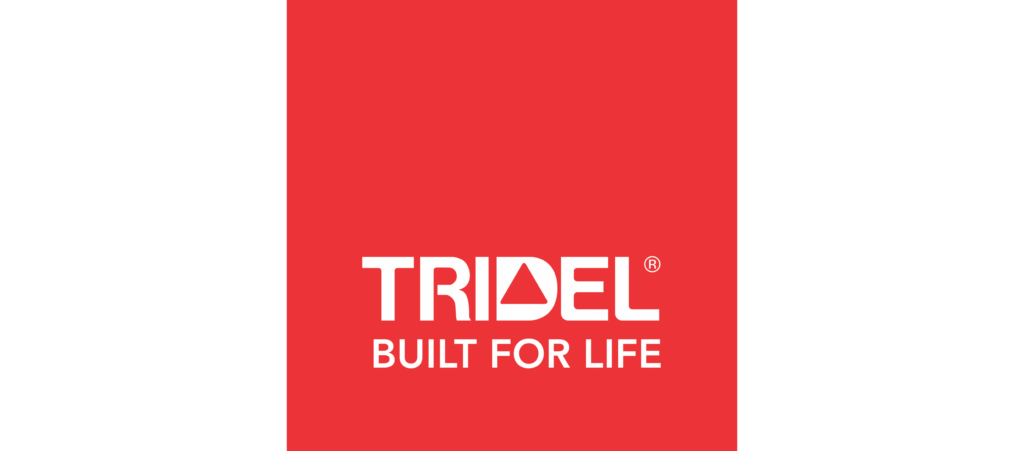 Tridel leads sustainable residential condominium development in Canada, with more than 20% of the commercial certified LEED®** MURB (Multi-use residential buildings). With over 18,000 green suites in the marketplace, Tridel is the largest developer of green condominiums in Canada. They are the proud recipient of 8 out of 11 Green Builder of the Year awards from BILD.
Tridel is a developer built on history. For over 80 years, Tridel has been an innovator and leader in redefining homes. Tridel's promise to build sustainable communities with superior materials and prime locations has won them the trust of their customers and countless builder awards as well. Their homes are meant to be built for life – stylish yet enduring, comfortable yet dynamic.
GRAZIANI + CORAZZA ARCHITECTS

"We succeed because of the close collaborations we create between our clients and the entire G+C project team. Our design principles are founded in using materials that complement the urban and natural environment to produce sustainable settings for those who live, work and play in the spaces we create. Our ultimate satisfaction comes in seeing our buildings embraced by their owners, occupants and local community."
In addition to full-service assignments, the expertise of their team is made available through a number of in-house services including feasibility studies, computer renderings and animation, and building and fire code consulting.
FLOOR PLANS
SIGNATURE LIVING AREA
Warm, modern, and elegantly chic, the open-plan living and kitchen area is a place to gather and get comfortable. Expansive windows ensure this space is awash with natural light, adding an overall sense of grandeur to the room
SIGNATURE KITCHEN & DINING
Vast views of the city and foliage below help you prepare inspiring meals in your kitchen and adjacent dining room. Brilliantly arranged with top of the line appliances and sleek storage, you will have plenty of room to entertain.
REGISTER BELOW TO GET PRIORITY ACCESS TO CHATEAU AUBERGE FLOORPLANS
Register your interest today!